Library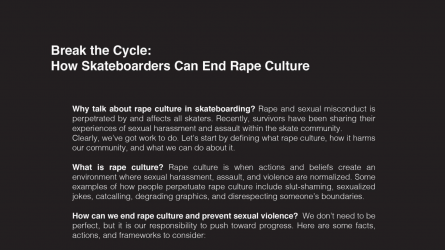 Consent Is Rad – in collaboration with the skateboarding community – has published an Open Letter to End Rape Culture as part of their Break the Cycle: How Skateboarders Can End Rape Culture campaign. 
Consent is rad is an internationally collaborative project about consent through the lens of skateboarding. They share information about how to talk about consent and using awareness and education as part of the global effort by skaters to tackle issues of sexual abuse and sexual harassment.
This Open Letter is a community statement by skateboarders of various genders and backgrounds in the community. The statement is both a call to action and also with the aim to offer guidance to both industry and community. 
The Open Letter has been created through the efforts and concerns of skateboarders spanning several continents and numerous nations. It has been done in collaboration with professional skateboarders, individuals from the skate community, industry, skate journalists and writers, skate researchers and Consent is Rad.