Library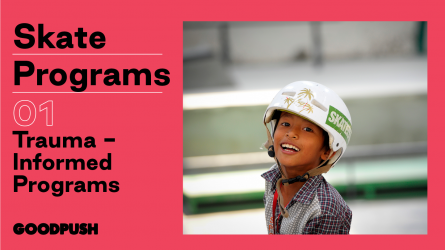 Interested in how to teach skateboarding lessons for all ages and abilities? Get tips on warm-ups, skill-building activities, and games, with our structured skate lesson examples and other resources. The goal of this course is to give you tools and examples to help you design your skateboarding programs with a focus on safety, inclusion and trauma-informed principles.
Topics covered:
Introduction
Skate Program Basics
Making Your Skate Programs Inclusive
Creating Safe Spaces
Trauma Awareness and Good Practices
Summary and Final Quiz
Module duration: 1.5-2 hours (your progress will be tracked so you don't need to do this all at one time)
How to login for e-courses: Our e-courses are available for free to all registered members of Goodpush.org. If you already have an account, simply click the "Goodpush" button on the LearningLAB login page. If you don't have a Goodpush account yet, you can register here.