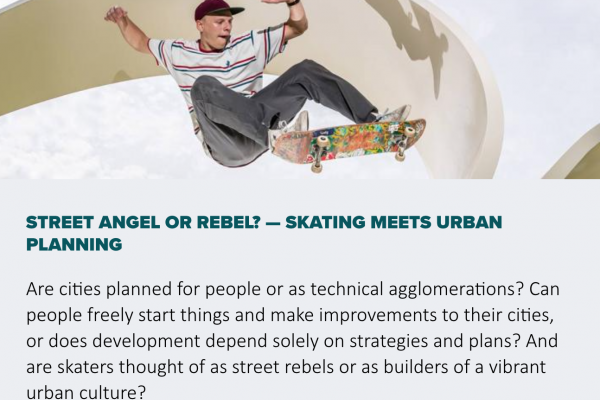 Tuesday, 9 Feb 21 1:30 PM - 3:00 PM
Global
Dialogue between stakeholders is essential when planning vibrant cities and residential environments. This webinar will approach urban planning and development from skaters' point of view. Skating, which has even become an Olympic sports, is deeply rooted in cities. Skaters have created their own robust culture and they can help us all imagine an evolving city made by us for us.
The keynote speakers are world-leading experts in the field, such as architecture and urban culture professor Iain Borden of University College London, advocate of inclusive skateboarding Kristin Ebeling from Seattle, researcher Mikko Kyrönviita from Tampere University and city planner Gustav Svanborg-Edén from Malmö.
The webinar is free of charge but prior registration is required here. The webinar is organized by FCG (Finland) together with Chasing the Spot project.