Why is Child Protection Important for Skateboarding/Sport Projects?
All projects working with children have a responsibility to put safeguarding measures in place. The main goal is to keep children safe, but it's also important to remember that the reputation and success of your program depends on this.
Most skateboarding projects have chosen to work with children from difficult situations. This presents extra challenges and extra responsibilities (both within your programs and what children face externally).
What is "Child Protection"?
Definition: "The prevention of and response to abuse, neglect, exploitation and violence against children" (Source: Child Protection Working Group).
Child protection refers to some parts of the UN Declaration of Child Rights, such as safety and non-discrimination. The Declaration gives the guiding principle in child protection: What are the best interests of the child?
Example Elements of Child Protection:
Pledge: All staff/volunteers must sign a Child Protection agreement before beginning work with the organization.
Training for new staff: Every staff or volunteer receives child protection policy training so they understand the policy and act in the right way.
Annual review of the child protection protocols and the incident reporting.
Integration of best practice into all areas: ie. recruitment, communications, partnerships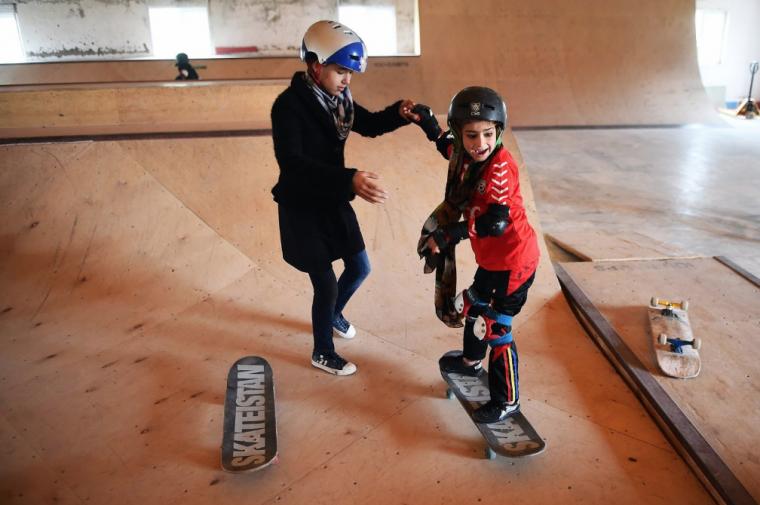 Child Protection Policy (CPP)
What is a CPP?
A child protection policy provides guidelines for organizations and their staff to create safe environments for children. It is a tool that protects both children and staff by clearly defining what action is required in order to keep children safe, and ensuring consistency so that all staff follow the same process.
It is the responsibility of all staff and volunteers to create a safe and tolerant environment

→ Everyone needs to know this policy, even those not in direct contact with children.
Every organization should create a CPP that reflects its own needs. Many have common elements, such as defining key terms, staff and recruitment, behaviour protocols, visitor/media guidelines, partnerships, and reporting procedures. Here's a CPP template example we have created just for social skateboarding projects that you can adapt and use for your own initiative! 
Choosing Safe Program Partners
There are many great organizations working with vulnerable children and their families. There are also many organizations operating without proper child protection policies in place, including some that fail to check the backgrounds of their short and long term visitors. This leaves children open to mistreatment and abuse, no matter how short their visit.
Safe Partnership Practices:
Potential partners share a copy of their child protection policy or protocols
Partner organizations receive a copy of your organization's CPP
Partners sign a copy of your CP agreements (including media guidelines and any other considerations) before the collaboration begins
Visitor & Media Guidelines
Media Visit Best Practices:
Arranged in advance
Consent for interviews/photos
For example, at Skateistan, every person who is part of a media visit must sign the organization's media guidelines and agree to follow the CPP i.e. only taking photos that show children in a positive light, not singling out individual children, not using real names, ensuring parent consent before taking photos. Every student must also be approached in their native language and give their own permission before having their photo or video taken by any media personnel. Additionally, when each student registers, parents/guardians are asked whether or not they give permission for their child to appear in both externally- and internally-produced media.
Awareness ad from Friends International on voluntourism
Staff & Volunteer Recruitment
Recruitment Best Practices:
A Note about "Voluntourism":
Voluntourism describes a program that invites tourists (for a specific fee, or through an NGO directly recruiting), to volunteer at an organization.
These programs have been widely criticized because:

In most cases, these organizations do not require candidates to have relevant qualifications or previous work experience in social work or childcare. They also often don't do background checks, exposing children to the risk of abuse.
Typically, volunteers from high socio-economic backgrounds travel abroad to work with  poor communities and lack cultural and historical knowledge about where they are volunteering. This can lead to an imbalanced power dynamic which increases the risk of vulnerability for children.
A high turnover of volunteers poses extra risks to any children they are working with, and can be disruptive for children who build relationships with short-term volunteers.
Safety at the Skatepark
Each skate project and skatepark is different and will have different considerations to take into account to ensure children are safe. Below are a few examples of skatepark best practices:
Safety gear provided and helmets worn by teachers (role modeling)
Participant/Teacher ratio (Max 8-10 participants to 1 teacher)
Organizing space and times for different skate abilities
Promoting healthy boundaries and having clear rules against favouritism by teachers (being professional)
First Aid training and supplies available
Signed Waiver and Media Permission form by parents/guardians for participants under age 18
Next Steps:
As a starting point, adapt this Child Protection Pledge for your own project staff, volunteers and participants to understand and sign. 

If you don't have one yet, create your own Child Protection Policy using our new template as guidance! Also, ensure your organization has relevant supporting documents like a Code of Conduct and Media Agreement (see some examples in the Resources and Templates section below).

Want to learn more? Complete our new (and free!) Goodpush E-Course, An Introduction to Child Protection, to find out how to make your programs a safe space for all participants, especially those considered vulnerable. 

---