About "Creative Education" Programs
Creative education encourages people to gain knowledge and abilities through creative processes. Since skateboarding and art have had a long history of connection and overlap, many skate projects have naturally undertaken various creative educational activities. This toolkit gives an overview and ideas for starting or building up your creative educational program.
Guiding principles:
Non-formal education

Using art to explore a larger topic, not (usually) just art for arts-sake.
Does not lead to specific credentials, is not accredited
Exploratory learning outside of the public school curriculum

Each lesson plan should be accessible for all students (take into account literacy, educational background, age, abilities)
As interactive and hands-on as possible:

Promoting creativity over "rote learning"

Provide participants with new perspectives, including these elements:

Guest speaker(s)
Field trip(s)
Multimedia or video exchange
Connection with another project  or other school outside of your city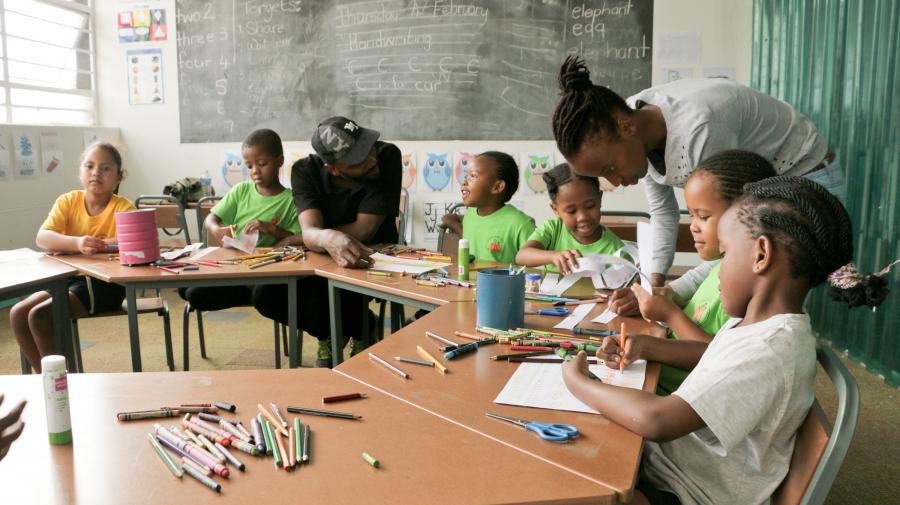 Benefits of Combining Arts with Education
Students can explore various themes using artistic mediums, like painting, theatre, photography and sculpture. They learn self-expression and creativity. Art classes can be simple crafts, or have a broad scope. Art can be used to explore almost any topic – safety, community health, the environment, friendship, family, etc. Art can also include gardening, and other creative activities.
These classes are an opportunity to reach students who are less interested in skating, as well as a chance for children to develop and show a variety of talents. Note: Class themes should be decided on with input from staff who have an excellent understanding of the cultural context.
Skateistan's "Skate and Create" program
In 2009, Skateistan's Skate School in Kabul began running what is now called the Skate and Create program. The original concept, however, was simply that students would spend the same amount of time learning in a classroom as they would in the skatepark. This evolved over time:
The problem: During the early lessons Skateistan teachers tried out various topics and activities, and it became clear that the huge range in educational background of our students meant that some of them were literate in multiple languages while others had never held a pen before.

The solution: Skateistan realized that arts were, like skateboarding, more of a level playing field than formal education, and decided that Skate and Create classes would require no literacy.

Current status: Each year, Skateistan runs four semesters that cover topics related to Wellness, Human Rights, Science & Technology, and/or Thinking Global, Acting Local.
Watch our presentation above for some examples of Skate and Create lessons and more information.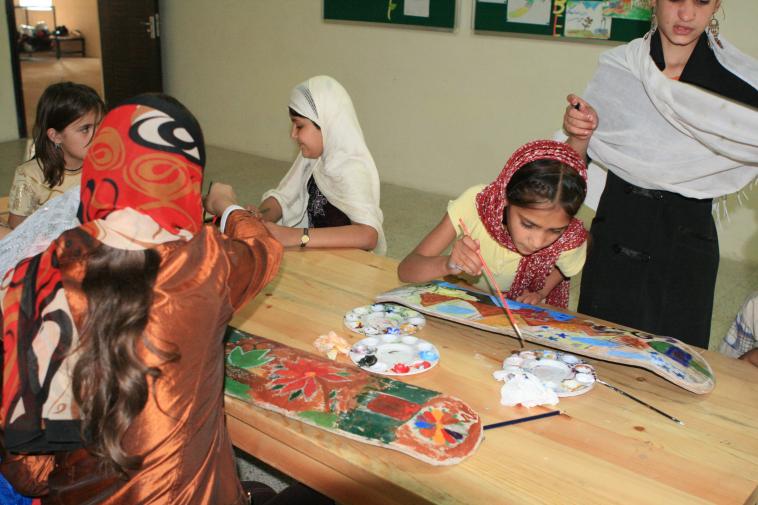 Mixing Skateboarding with Creative Education
Skateboarding and creative learning can also be combined – lots of lessons can bridge over into the skatepark or vice versa. Since skating is the hook for a lot of kids, this can be a fun way to first introduce the creative educational programming as they'll be super interested in anything related to skateboarding!
Examples: decorating boards, designing obstacles, board maintenance, making posters for the rules, navigation, mapping
Running a Create Lesson
Planning Lessons
Classroom activities can focus on any social theme or environmental issue, or can be used for the sake of self-expression or learning a new skill.
Curriculum should be planned out to meet particular learning goals, with a rough timeline in mind.
Make sure students are being challenged
Tailor activities to varying abilities
Have weekly instructor meetings to discuss new ideas and even do the hands-on activities together to make sure all teachers are comfortable running the activities.
Teaching Tips
Look for opportunities to make use of the space and resources around you. If there's a pile of old tires nearby, collect them to teach about recycling and make sculptures!
Invite guest teachers with specific artistic skills to help design and run your lessons as volunteers. This will help to build up the skills in your team and will be exciting for your participants.
Use a range of teaching tools to reflect the fact that everyone learns differently. Include visuals, audio, hands-on activities, group work, and individual reflection.
Listen to students' feedback for what they are interested in learning
Be flexible in the classroom, feel free to move to a new activity if the class isn't engaged, or extend a project if it seems to be working well.
De-brief
At end then of every educational activity you do, take 5-10 minutes to ask participants how the lesson or exchange went for them. This feedback can help you to make future lessons better, and encourages participants to reflect on what they've learned. You can ask questions like:
What did you learn?
What did you like best about the lesson/exchange?
What didn't you expect?
Did you have fun?
Would you like to learn more about this topic (or a specific artistic skill, ie. photography)?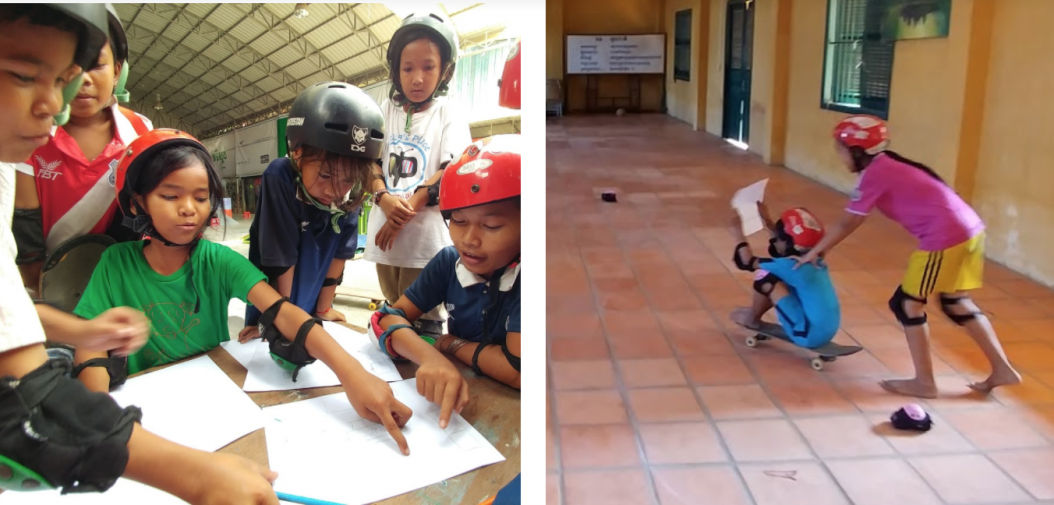 Skateistan Cambodia students learn about map-reading
Getting Community Buy-In
Many parents don't see the value initially in arts-based education lessons, often because they don't know what their kids are actually are learning.
Tips to get support for your creative education programs:
Show parents what their children are learning:

At registration: explain what the Create classes are and why they are beneficial (problem-solving, confidence, life skills)
Each semester, send a letter home explaining past and future class activities
Include arts projects where participants are able to take their work home (plants, photos, drawings, puppets)
Host regular where parents and other community members are invited.

Include community input: topics, local challenges, arts activities they're interested in
Ideally you are connecting with community members regularly anyways, and taking those opportunities to share information on the creative education lessons you are doing with participants. See the Community Engagement Toolkit for more info.
Next steps:
1. Ask your participants what they are interested to learn about.
2. Make two lists:
The challenges facing the community you work in

The resources you have access to (spaces, people, supplies)
3. Make your own Creative lesson plan! Use our Lesson Plan template.
4. Keep learning! Complete our new (and free!) Goodpush E-Course on Building Life Skills Through Creative Education to explore how you can start running creative educational activities with children and young people.
---