Why do Community Engagement?
Having regular interaction with the community you're working in is essential for building up your project's reach, quality and reputation. Community engagement includes outreach, events, meetings, and partnerships. It offers the chance to assess community needs, let people know about the programs you offer, and build local support for your skateboarding-based activities.
Quality: Include the community in defining goals and regularly check that your project activities are making the change you hope for.
Reach: Find out if the people you want to reach are interested and able to join your activities.
Reputation: Build up a positive image of skateboarding and gain trust in the community. This is especially important in communities where skateboarding is a new activity.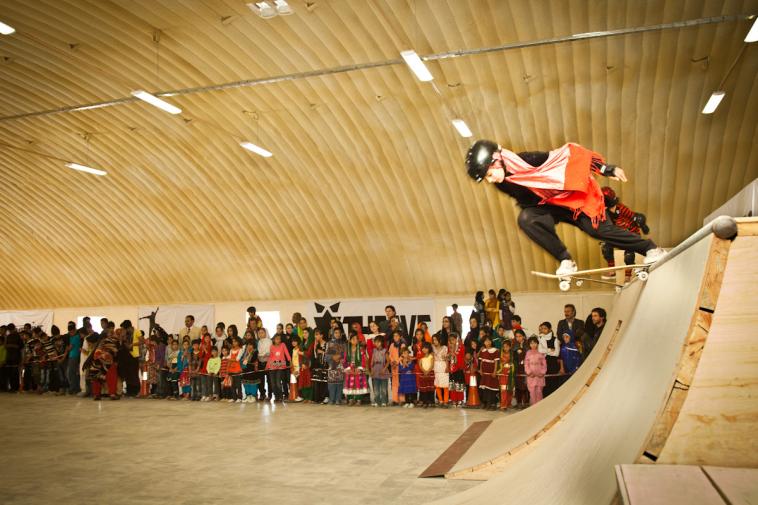 Who's your Community?
High-quality programs for youth require people from various parts of the community and from diverse organizations to work together.
But your community is never just the skaters that you are working with – as your activities grow over time, the support and input of many others will be needed to set up activities that are valued and impactful.  
Examples of community members can include:
Participants (ie. youth/skaters)
Families of participants
Community leaders (ie. religious leaders)
Local skateboarders, skate shops
Nonprofits and schools working with the same communities (current/potential partners)
Officials and ministries
Security services (ie. police)
Local businesses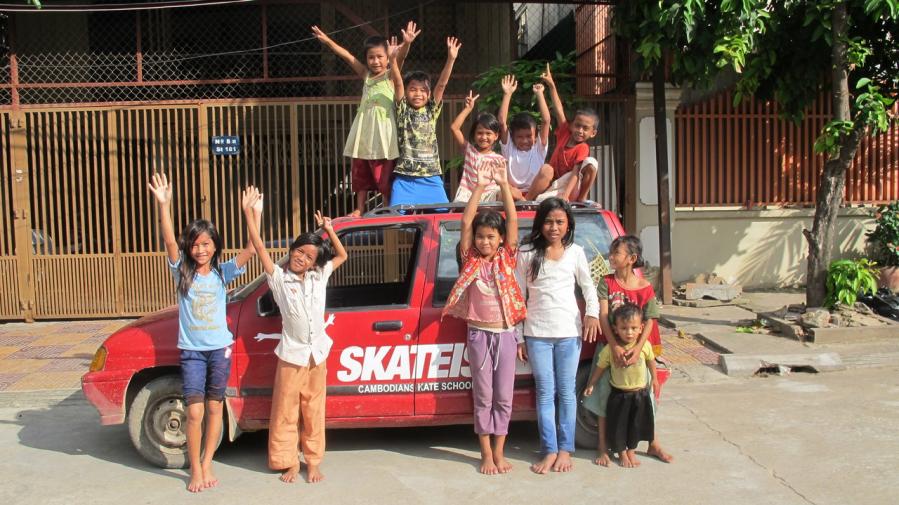 Methods of Engagement
Here's a list of some community engagement approaches you can use:
Outreach at skate spots, skate shops, youth centres
Canvassing (walking around a community with flyers)
Home visits and letters to connect with families
Phone calls and meetings with families or partners
Tours/visits of your program for families, community leaders, officials

Can also do video tours or live streams

Events: skate demos/contests, art shows by participants, info booth or speech at external events
Local press coverage
Social media
Some of these might seem old school, but face-to-face contact builds trust and relationships more effectively than other types of contact. Use the tools that feel natural for your community.
Needs Assessments
Imagine you're planning to start a new skate project. How do you decide where to do it? What time to run activities? How to set it up in a way to reach the participants you have in mind?
This is where needs assessments come in handy. If you take a bit of extra time to ask questions and plan in advance, you can avoid a lot of headaches and extra work later on.
Why do a needs assessment:
To decide which communities to work with (ie. which ages, which neighbourhoods)
To find locations to work in (ie. land for own skatepark, schools, public parks, community centres, other nonprofits)
To find key stakeholders that will help you do your work (ie. local skaters, officials, schools)
To learn about potential risks and security issues (ie. areas where girls feel unsafe)
To learn about helpful strengths of the community (ie. organizing events, word-of-mouth)
To ensure you aren't doubling up on the efforts of other nonprofits in the area
To meet donor requirements
To shape the programs you offer

Does it need to be walking distance or have transport provided?
What other recreational opportunities are available?
Are kids interested in skateboarding?
Are there any potential cultural or logistical barriers to take into account?
When to do a needs assessment:
Before starting a new project location or activity
Anytime mid-project to find out how well your program's working
Getting Support for a Skateboarding Program
Even before you start your program, it's important to clearly communicate what your project aims and activities will be – for example "We want to give children a positive outlet through skateboarding and theatre classes". Also share your message regularly once programs get rolling. Below are a few tips for communicating to students, families, and community leaders on your organization's programs goals.
1. Highlight the positive effects of your program and skateboarding to parents and community leaders:
Ie. Better behavior of youth; confidence; physical exercise; friendship (mental health).
2. Use regular community events to showcase your activities and what your participants have learned.
Ie. Skate demos, art shows, video screenings, theatre performances
3. Link skateboarding to activities that the community already values, such as youth-led neighbourhood clean-ups and learn-to-skate days, art projects, joining existing cultural events, or providing educational programs. Incorporate local cultural influences into everything from t-shirts to skatepark design!
4. Calculate the cost to your organization for each child to attend and frame it as a scholarship.
Ie. "Congratulations! Your child is selected to receive a one-year scholarship to ____ program, with a value of $200."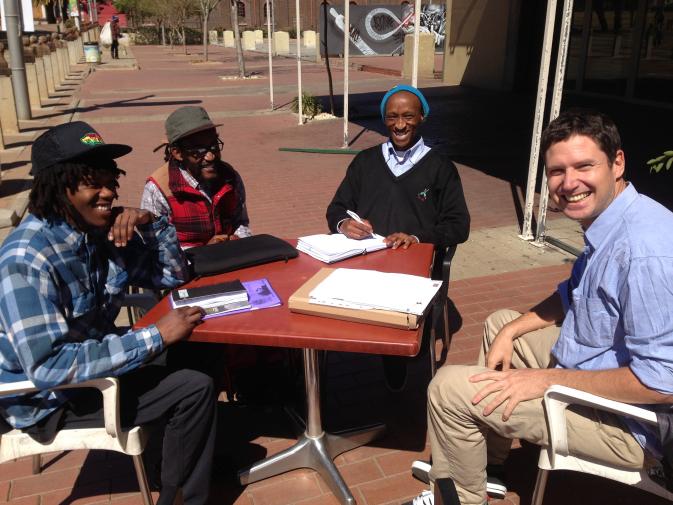 Skateistan's founder Oliver (right) meeting with the Soweto Skate Club in 2013
Partnerships
One very effective way of engaging with the community is to set up partnerships. This means working together with another organization toward a shared goal. Partnerships are often essential for expanding your organization's programming capacity, adding new services, or reaching new communities.
A partnership with another nonprofit or a school, for example, could involve sharing the responsibilities and costs of a program (ie. transport, food, venue, volunteers, event-planning, equipment, infrastructure maintenance). A partnership with government, donors, or businesses involves them supporting your mission by giving money in the form of a grant, or donating goods or services required to run your programs, such as skateboards, shoes or helmets. Your project can offer visibility, recognition and shareable content to partners, sponsors and donors.
A strong and strategic partnership can help to fix gaps in quality, strengthen community relationships, and reach the people in need of your services. They can also provide exciting opportunities. On the other hand, the wrong partnership can create risk and have negative consequences to your work. To lower the risks, take time to explore and evaluate potential partners before deciding to work with a new partner.
Next Steps
1. Make a list of community partners that you'd like to involve more in your programs and plan how you will reach out to each of them (ie. meeting, phone call, invitation to event or session).
2. If you're planning to start a new project location, a new program, or simply want to learn more about where you are working, do a Needs Assessment using our Needs Assessment guideline. 
---